Lemon and Honey Glazed Pork Steaks Recipe – 4 points
Ad
---
---
Lemon and honey glazed pork steaks
SERVES: 4
Calories/serving: 241
WW points per serving: 4
PREPARATION TIME: 10 MINUTES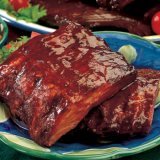 COOKING TIME: 30 MINUTES
4 lean pork steaks
zest and juice of 2 lemons
2 tablespoons runny honey
2 garlic cloves, crushed
2 talespoons chopped fresh rosemary
salt and freshly ground black pepper
1. Remove all the fat from the pork steaks with a sharp knife and discard. Place the steaks in a shallow container. Season on both sides with salt and black pepper.
2. Combine the remaining ingredients in a small bowl and mix well. Pour over the pork and turn the steaks over to coat both sides.
3. Cook under a hot grill for 8-10 minutes on each side, basting with more glaze if required. Serve hot.
Ad
---
---