Serves: 12
Fibre 2.5g, protein 20g, fat 22.2g
Calories/serving: 308
WW points per serving: 6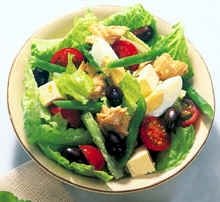 2 teaspoons Dijon mustard
2 tablespoons wine vinegar
11/2 teaspoons salt
2 cloves garlic, peeled and finely chopped
9oml/3floz olive oil
9oml 3floz groundnut or vegetable oil
freshly ground black pepper to taste
1 teaspoon chopped fresh thyme, or1/2 teaspoon dried
9oog /2lb green beans
2 green peppers
4 celery sticks
28og 1002 cherry tomatoes
3 x 2oo-g/7-oz cans tuna, drained
1 x 6o-g/2 1/2oz can anchovies, drained
10 stuffed green olives
10 black olives, stoned
1 large or 2 small red onions, peeled and very finely sliced
2 tablespoons chopped basil
5 tablespoons finely chopped parsley
4og/1 1/20z spring onions, finely chopped
6 hard-boiled eggs, quartered
1. Combine the mustard, vinegar, salt, garlic, olive oil, groundnut or vegetable oil, pepper and thyme in a bowl to make the dressing. Beat until well blended, then set aside.
2. Pick over the beans and break into 3.5-cm/1 1/2-in lengths. Place them in a saucepan and cook in salted water until crisp but tender. Run under cold water and drain in a colander, then set aside.
3. Remove the cores, seeds and white membranes from the green peppers. Cut the peppers into thin rounds and set aside. Trim the celery stalks, cut crossways into thin slices and set aside.
4. In a large salad bowl make a more or less symmetrical pattern of the green beans, peppers, celery and tomatoes. Flake the tuna and add to the bowl. Arrange the anchovies on top and scatter the olives over the salad.
5. Scatter the onion slices over the salad and sprinkle with basil, parsley and spring onions. Pour over the dressing and top with the hard-boiled eggs.