Raspberry Sorbet Recipe – 5 points
Ad
---
---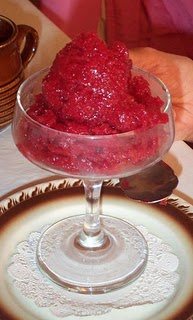 Serves 8
Fibre 1g, fat 13g, protein 1.7g
Calories/serving 227
WWpoints per serving 5
25oml/8floz double cream
2 egg yolks
1 teaspoon lemon essence
6 tablespoons granular sugar substitute
120g/41/2 oz raspberries
1 teaspoon raspberry flavouring
12sml/4floz framboise (red raspberry liqueur)
1. Heat the cream in a saucepan over a low heat, then whisk in the egg yolks one at a time. Add the lemon essence and half the sugar substitute. Whisk until the mixture begins to thicken, then remove from the heat.
2. Rinse and dry the raspberries, place in a bowl and sprinkle with the rest of the sugar substitute. Add the raspberry flavouring and framboise and mix well. Whisk the raspberry mixture into the cream mixture and cool to room temperature.
3. Place the mixture in an ice cream maker and churn according to the manufacturer's instructions.
Ad
---
---