BANANA NUT BREAD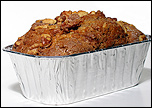 Choose fruit for dessert.

Ingredients:
1 C mashed ripe bananas
1/3 C low-fat buttermilk
1/2 C packed brown sugar
1/4 C margarine
1 egg
2 C sifted all-purpose flour
1 tsp baking powder
1/2 tsp baking soda
1/2 tsp salt
1/2 C chopped pecans
Directions:
1. Preheat oven to 350º F. Lightly oil two 9×5-inch loaf pan.
2. Stir together mashed bananas and buttermilk; set aside.
3. Cream brown sugar and margarine together until light. Beat in egg. Add banana mixture; beat well.
4. Sift together flour, baking powder, baking soda, and salt; add all at once to liquid ingredients. Stir until well blended.
5. Stir in nuts and turn into prepared pan.

6. Bake for 50-55 minutes or until toothpick inserted in center comes out clean. Cool 5 minutes in pan.
7. Remove from pan and complete cooling on a wire rack before slicing.
Makes: One loaf
Serving Size: 1/2-inch slice
Each serving provides: Calories: 133, Total fat: 5 g, Saturated fat: 1 g, Cholesterol: 12 mg, Sodium: 138 mg.