Kiwi and mango salad with lime maple syrup
Serves : 4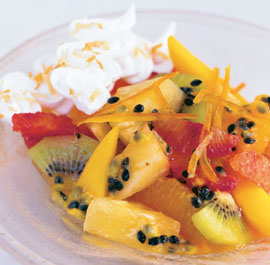 Calories/serving: 86
WW points per serving: 1
PREPARATION TIME: 10 MINUTES
4 ripe kiwi fruits
1 ripe mango
zest and juice of 2 limes
1 tablespoon maple syrup
fresh mint to decorate
1. Using small serrated knife, trim both ends off the kiwi and peel away the skin. Slice the fruits and set aside.
2.Cut away the skin from the mango, using a sharp knife, then slice away the fruit from around the centre stone. Cut the sections of mango into long slices and arrange with the kiwi in alternate layers on a serving plate.
4 Mix the lime zest and juice with the maple syrup and drizzle over the fruits. Decorate with fresh mint and serve immediately.