12 egg halvers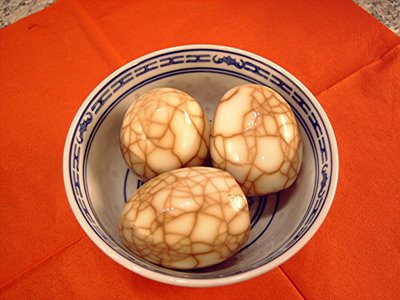 Fibre 0.1g, protein 3.5g, fat 2.7g
Calories 42
WWpoints 1
* 6 eggs, at room temperature
* 2 tablespoons soy sauce
* 2 tablespoons salt
* 3 tablespoons black tea
* 1 tablespoon anise essence
1. Place the eggs in a saucepan, cover with cold water and bring to the boil. reduce the heat and simmer for 10 minutes.
2. Remove the eggs, leave to cool, then crack the sheels in several places, but do not peel the eggs.
3. Bring 1 litre ( 1 3/4 pints) of water to the boil. Add the remaining ingredients and the eggs. Simmer for one hour, then cool the eggs in the liquid , in the refrigerator and leave overnight.
4. To serve shell the eggs and cut in half.