Bake or broil fish.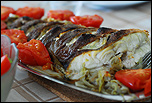 Ingredients:
2 tsp olive oil
1 large onion, sliced
1 can (16 oz) whole tomatoes, drained (reserve juice) and coarsely chopped
1 bay leaf
1 clove garlic, minced
1 C dry white wine
1/2 C reserved tomato juice, from canned tomatoes
1/4 C lemon juice
1/4 C orange juice
1 Tbsp fresh grated orange peel
1 tsp fennel seeds, crushed
1/2 tsp dried oregano, crushed
1/2 tsp dried thyme, crushed
1/2 tsp dried basil, crushed to taste black pepper
1 lb fish fillets (sole, flounder, or sea perch)

Directions:
1. Heat oil in large nonstick skillet. Add onion, and sauté over moderate heat 5 minutes or until soft.
2. Add all remaining ingredients except fish.
3. Stir well and simmer 30 minutes, uncovered.
4. Arrange fish in 10×6-inch baking dish; cover with sauce.
5. Bake, uncovered, at 375º F about 15 minutes or until fish flakes easily.
Makes: 5 servings
Serving Size: 1/2 cup
Each serving provides: Calories: 177, Total fat: 4 g, Saturated fat: 1 g, Cholesterol: 56 mg, Sodium: 281 mg.