Roast sweet potatoes with chilli glaze
SERVES 4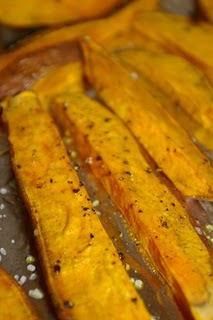 Calories/serving: 124
WWpoints per serving: 2
PREPARATION TIME: 10 MINUTES
COOKING TIME :35 MINUTES
450g (1 Ib) sweet potatoes
1 vegetable stock cube
1 medium red onion, finely diced
2 tablespoons light soy sauce
1 teaspoons sea salt
1 red chilli, seeded and finely chopped
1 garlic clove, crushed
2 tablespoons apple sauce
1 tablespoons chopped fresh parsley
1. Preheat the oven to 200C, 400F, Gas Mark 6.
2. Wash the potatoes and cut into 2.5cm (1 in) pieces. Cook in a pan of boiling water with the vegetable stock cube for 5 minutes, then drain well.
2. Place the potatoes in the bottom of a non-stick baking tin. Add the red onion. Drizzle the soy sauce over and sprinkle with a little sea salt. Bake in the oven for 20-25 minutes.
Remove from the oven. Combine the chilli, garlic and apple sauce and dot over the potatoes. Shake the tin well to coat the potatoes then return to the oven for 5 minutes. Just before serving sprinkle with parsley.