Roasted Mediterranean Tartlets
SERVES: 6
PREPARATION TIME: 15 MINUTES
COOKING TIME: 30 MINUTES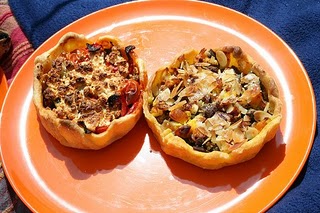 Calories/serving: 100
WWpoints per serving: 2
1 aubergine
1 red and 1 yellow pepper, seeded
1 small red onion, peeled
2 courgettes, wiped
2 garlic cloves, finely chopped
2 sprigs of rosemary
1 tbsp balsamic vinegar
175g (6oz) cherry tomatoes, halved
3 sheets filo pastry
sunflower oil spray
salt and freshly ground black pepper
1. Preheat the oven to 400F, 200C, Gas Mark 6. Trim the aubergine and cut into dice. Cut the peppers into dice and the red onion into thin wedges. Trim and slice the courgettes. Place in a bowl and add the garlic, rosemary and balsamic vinegar. Season with salt and black pepper and toss well.
2. Transfer the vegetables to a non-stick baking tray and spray evenly with a little sunflower oil spray. Place in the oven and roast for 20 minutes. Add the cherry tomatoes and cook for a
further 5 minutes. Take a sheet of filo and spray with a little sunflower oil spray.
3. Cut into six squares measuring approx. 10cm (4in) across. For each tartlet, use three squares of pastry. Ease the base squares into either Yorkshire pudding tins or tartlet tins. Place the remaining squares on top at different angles (the edges may need to be pushed in slightly to make an even- shaped case).
4. Line each tartlet with a little scrunched-up foil and bake for 8 minutes. Remove the foil and cook for a further 2-3 minutes until the pastry is golden and crispy. Fill the tartlets with the roasted vegetables. Serve warm or cold.