SERVES: 4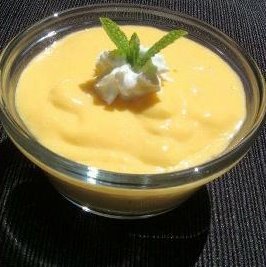 CALORIES/SERVING: 77
WW POINTS PER SERVING: 1
PREPARATION TIME: 10 MINUTES
COOKING TIME: 5 MINUTES
1 large fresh ripe mango
2 tbsps whisky
lx6g sachet Vege gel
275g (10oz) virtually fat free fromage frais
caster sugar to taste
2 egg whites
fresh fruit or chopped fresh mint to decorate
1. Peel the mango and slice the flesh into a food processor. Blend until smooth, then transfer to a saucepan. Add the whisky and sprinkle the Vege gel on top. Heat slowly, stirring continuously, until the mixture starts to thicken.
2. Pour into a mixing bowl and whisk until smooth. Add the fromage frais and a little caster sugar and mix until combined. Whisk the egg whites until stiff and fold into the mixture.
3. Spoon into individual glasses and decorate with fresh fruit or chopped mint.