Raspberry baked meringues
SERVES: 8
CALORIES/ SERVING (1 MERINGUE): 116
WW POINTS PER SERVING: 2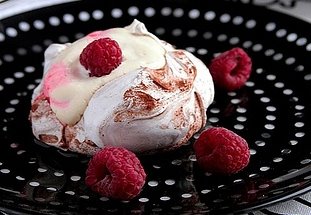 PREPARATION TIME: 10 MINUTES
COOKING TIME: 3-4 HOURS
Baking meringues with fruit inside adds terrific flavour and texture. They will be crisp on the outside with a chewy concentrated raspberry centre.
4 egg whites
225g (8oz) caster sugar
1 vanilla pod
115g (4oz) fresh raspberries
a little icing sugar to dust
1. Preheat the oven to 140C, 275F, Gas Mark 1.
2. In a very clean mixer bowl whisk the egg whites until stiff. Using a dessertspoon, add the caster sugar a spoonful at a time at 10-second intervals, keeping the mixer on high speed. Place the vanilla pod on a chopping board and splice in half lengthways, using a sharp knife. With the blade of the knife, scrape out the seeds from the vanilla pod and add them to the meringue mixture. Place the pod in a storage container filled with sugar (this will flavour the sugar for use in other meringues or desserts).
3. Lightly grease a baking sheet and cover with parchment paperUsing two large spoons, form the meringues into eight oval shapes by transferring the mixture between the spoons. Place directly on to the parchment paper.
4. Carefully press 4-5 raspberries into the centre of each meringue and smooth over with a knife. Bake in the oven for 3-4 hours until dry on the outside. Turn off the oven and leave the meringues in until cool.
5. Serve with a dusting of icing sugar.