Serves: 2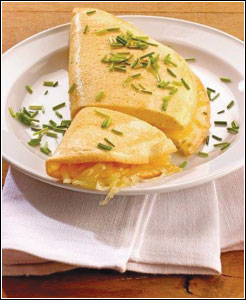 Fibre o.3g, protein 2, fat 56.5g
Calories/serving : 615
WW points per serving: 12
30g/1oz unsalted butter
2 tablespoons finely chopped onion
4 eggs
2 tablespoons double cream
12og/ 4 1/2oz soft cheese, mashed or chopped
6og/ 2 1/2oz firm cheese, grated
1 tablespoon chopped parsley, to garnish
1. Heat the butter in a non-stick frying pan over a medium heat. Add the onion and cook until transparent.
2. Beat the eggs together with the cream and soft cheese. Cook following the Basic Omelette instructions until the eggs set.
3. Sprinkle the grated hard cheese over the eggs and cook for i minute. Slice the omelette in two and fold each semicircle in half. Flip over to melt the cheese and brown both sides. Serve hot and crisp. Garnish with parsley, if desired.