Tuna and Sweetcorn Pasta Recipe- 8 points
Ad
---
---
Serves: 3
Calories/serving: 408
WWpoints per serving 8
Fat 5g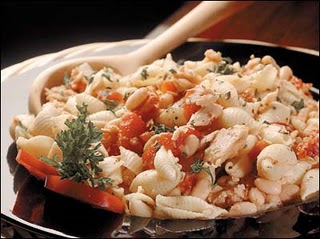 Preparation time:10 minutes
Cooking time:30
150g (5oz) [uncooked weight] pasta shells
1 vegetable stock cube
1 medium onion, chopped
50g (2oz) mushrooms, chopped
1 X 185g can tuna in brine, drained
1 X 142g can sweetcorn, drained
1 can Campbell's Condensed 99% fat free mushroom soup
1 tablespoon chopped fresh parsley
1 teaspoon chopped fresh dill
25g (1 oz) grated low-fat Cheddar cheese
freshly ground black pepper
1. Cook the pasta in boiling water with the vegetable stock cube.
2. Preheat a non-stick pan. Add the onion and dry-fry until soft. Add the mushrooms, tuna, sweetcorn and mushroom soup and heat through, leaving to simmer gently for 5 minutes. If the sauce is too thick, add a little skimmed milk. Add the fresh herbs towards the end of cooking and season with black pepper.
3. When the pasta is cooked, drain and rinse well in boiling water. Mix into the sauce. Place in a shallow, ovenproof dish and top with the grated cheese.
4. Place under a hot grill until the cheese has melted. Serve immediately.
Ad
---
---