Fresh Tuna and Avocado Salad
Serves: 6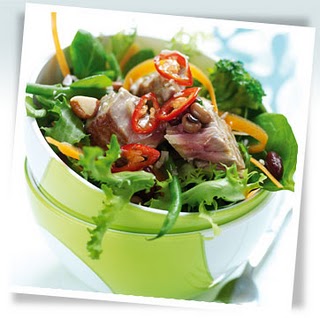 Fibre 2.1g, protein 34.6g, fat 12.3g
Calories/serving: 269
WWpoints per serving: 5
675g/1 1/2 lb fresh tuna steaks butter, for basting
1 large avocado, stoned, peeled and cubed
2 celery sticks, chopped
6 radishes, sliced
1 tablespoon fresh lemon juice
1 tablespoon tarragon vinegar
1/2 small onion, peeled and chopped
1/4 teaspoon cayenne pepper
salt to taste
1 recipe Lime Dilt Dressing
1. Heat the grill to its highest temperature. Grill the tuna steaks for 5 minutes on each side. If necessary, baste with butter during cooking to prevent the tuna drying out.
2. Toss all the ingredients, except for the tuna, in a medium bowl until well combined, then drizzle with the Lime Dill Dressing. Divide between 6 plates.
3. Slice the fish into strips and place across the top of each plate of salad.