Serves 6
Fibre 4.3g, protein 19.g, fat 37.7g
Calories/serving: 462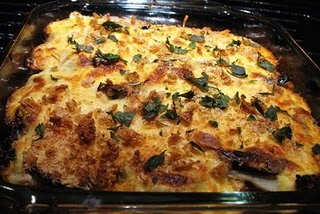 WW points per serving: 9
1 medium aubergine
40g/1 1/2oz unsatted butter
3 egg yolks
3ooml /1ofloz water
6oml/2floz double cream
50g/ 2oz grated Parmesan cheese
9oml/3floz olive oil
1 large onion, peeled and
chopped
1 large green pepper, chopped
2 cloves garlic, peeled and finely chopped
450g/1lb minced lamb or
225g/8oz minced lean beef
25oml/8floz prepared tomato sauce or passata
1 1/2 teaspoons ground cumin
1/4 teaspoon grated nutmeg
1/4 teaspoon dried oregano, or1 teaspoon fresh chopped
2 teaspoons salt
1. Peel and slice the aubergine and arrange the slices on a large plate. Place the plate in the sink (the Juices will run out) and cover with another large plate, allowing the plate to press down on the aubergine. Leave to drain for 30 minutes, then press each slice with kitchen paper to dry it.
2. Preheat the oven to 18o°C/350°F/gas 4.
3. To prepare the cream sauce, place the butter in the top of a double boiler over hot water. Add the egg yolks one at a time and beat constantly with a rotary or hand electric beater. Add 6oml/2floz of the water, the cream and the Parmesan cheese. Continue to beat until the sauce thickens, which should take about 10 minutes. Set aside.
4. Heat a third of the olive oil in a large frying pan. Add the onion and green pepper and saute until light golden brown. Add the garlic and meat and cook until browned.
Add the tomato sauce, remaining water, cumin, nutmeg, oregano and salt and simmer for 15 minutes.
5. Heat the remaining olive oil and saute the aubergine slices until lightly browned. Drain on kitchen paper then place half the aubergine slices in a well-oiled baking dish. Spread with half the meat mixture then place the remaining aubergine slices on top and cover with the rest of the meat. Cover the top with the cream'sauce and bake for 30 minutes until bubbling and golden brown.