Crepes 12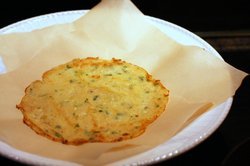 Fibre 0.4g, protein 3.2g, fat 3.2g
Calories/serving: 47
WW points per serving: 1
5og/2oz soy flour
125ml/4floz water
3 eggs
1 tablespoon olive oil
1. Put all the ingredients in a blender or food processor and blend until smooth.
2. Cover the bottom of a crepe pan or small frying pan lightly with a small amount of oil. When the pan is hot enough to sizzle a drop of water, pour about 3 tablespoons of the crepe mixture into the pan. Tilt the pan to distribute the mixture evenly as the crepes should be thin. Lightly brown the crepes on both sides (about 1 minute per side). Stack on a plate between greaseproof paper until all the crepes are made.
Crepes are delicate, so handle them carefully. They can be made a day ahead and stored in the 3. refrigerator, separated by greaseproof paper.