Serves 8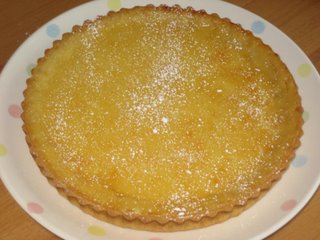 Fibre 1.7g, protein 4.4g, fat 13.5g
Calories/serving 152
WWpoints per serving 3
120g( 4 1/2 oz) soy flour
6og(2 1/20z) butter, softened
8og(3 oz )cream cheese, softened
1 tablespoon sour cream
6 teaspoons granular sugar substitute (optional)
1. In a bowl beat the flour, butter, cream cheese, sour cream and sugar substitute, if using, until just combined. Shape into a disc and chill for 20 minutes.
2. Roll out the dough between two pieces of greaseproof paper to form a 3o-cm/i2-inch circle. Loosen the greaseproof paper, replace with new paper and turn over the dough. Continue to roll until the dough is 3mm/1/8in thick, replacing the greaseproof paper as needed.
3. Pick up the paper and invert the dough on to a pie dish. Peel off the paper and patch any tears. Crimp the edges and prick the bottom with a fork. Chill for 30 minutes in the freezer.
4. Meanwhile, preheat the oven to 22o°C/425°F/gas 7.
5. Bake the pastry case for 18 minutes, lightly covered with foil, then remove from the oven and cool on a wire rack.