Serves: 2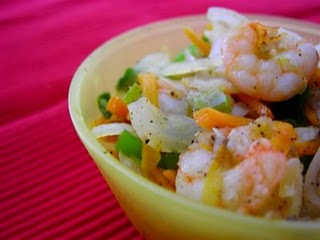 Fibre 3.4g, protein 50g, fat18g
Calories/serving: 425
WWpoints per serving:8
1 tablespoon vegetable oil
450g/1lb raw prawns, shelled and deveined
1 tablespoon sesame oil
2 spring onions, chopped
1 clove garlic, peeled and finely chopped
5os/20z bean sprouts
1/4 head cabbage, shredded
2 tablespoons soy sauce
1 tablespoon rice wine vinegar dash of granular sugar substitute
paprika, to garnish
1. Heat the vegetable oil in a frying pan, add the prawns and saute until almost cooked through. Tip the prawns onto a plate and keep warm.
2. Heat the sesame oil, add the spring onions, garlic, bean sprouts and cabbage to the frying pan, with 6oml/2floz water, and cook for 8 minutes, partially covered, until tender.
3. Return the prawns to the frying pan. Add the soy sauce, rice wine vinegar and sugar substitute. Mix well and cook for 2 to 3 minutes. Sprinkle with paprika, if desired.