Serves 6
Fibre 0.5g, protein 13.6g, fat 23g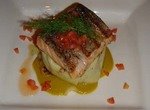 Calories/serving: 273
WW points per serving: 5
3og/1oz butter
3 tablespoons soy flour
1 teaspoon salt
25oml/9floz double cream,
heated
250g/ 9oz salmon fillet.
poached and flaked, or canned, drained and boned
salt and cayenne pepper to taste
3 eggs, separated
4 teaspoons fresh lemon juice
1. Preheat oven to 2oo°C/4oo°F/gas 6.
2. Prepare the souffle dish by greasing the bottom and sides with half the butter. Place in the refrigerator until ready to use.
3. Melt the remaining butter in a saucepan over a low heat and stir in the flour and salt. Whisk vigorously for i full minute to cook it and avoid a floury taste. Add the heated cream and continue cooking, whisking constantly until thickened. Remove from the heat and cool, then add the salmon, salt and cayenne.
4. Beat the egg yolks and blend them carefully into the salmon mixture. Whisk the egg whites until stiff and fold them into the salmon mixture along with the lemon juice. Pour the mixture into the prepared souffle dish.
5. Set the dish in a roasting tin filled with hot water and bake for about 35 minutes until firm. Serve immediately.