Slices: 20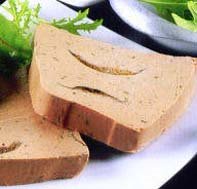 Fibre 0.3g, proetin 12.3g, fat 7.8g
Calories/slice: 130
WW points per slice: 3
4 rashers bacon
45og/1lb chicken livers
2 tablespoons butter
6oo-7oog/1lb 5oz-1lb 907 skinless chicken breast fillets, pounded flat
2 tablespoons white wine
11og/4oz water chestnuts, drained
2 hard-boiled eggs
4 teaspoons salt
1 Boursin cheese, about 90g/3 1/2oz
3 tablespoons basil freshly ground black pepper
1. Preheat the oven to 14o°C/275°F/gas 1.
2. Fry the bacon until crisp, then drain and reserve the fat.
3. Heat 2 tablespoons of the bacon fat in a frying pan and saute the chicken livers for about 5 minutes over a medium heat, then remove from the pan and set aside.
4. Add the butter to the pan and melt over a medium heat, then add the chicken breasts and saute for 3 minutes on each side. Add the wine and simmer for a further 3 minutes.
Place the cooked bacon, chicken livers, chicken breast, water chestnuts and eggs into a large bowl or food processor and chop finely. Add the salt, the rest of the bacon fat, the Boursin cheese, basil and pepper to the bowl and mix well.
5. Pack the mixture into a large buttered deep dish or loaf tin, cover with foil and place a heavy weight on top to keep the pate from rising. Bake for 2 hours then turn the oven off and allow the pate to cool in the oven. Unmould and cut into slices.