Serves 4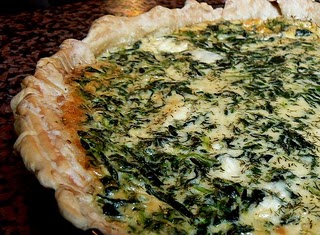 Fibre 0.9g, protein 11.7g, fat 17.8g
Calories/serving 217
WWpoints per serving 4
* 1 tablespoon olive oil
* 1 tablespoon butter
* 30 g finley chopped onion
* 1 garlic clove, peeled and finley chopped
* 2 slices prosciutto, diced
* 140 g cooked spinach, well drained and chopped
* 5 eggs
* 45 ml double cream
* pinch of freshly ground black pepper
* 20g Parmesan Cheese, grated
1. Preheat the oven 180C/350F/gas4
2. Heat the olive oil and butter in a frying pan, then add the onion, garlic and prosciutto. Fry slowly until the onion is light brown, then add the onion mixture to the spinach and place in a baking dish.
3. Beat the eggs with the cream and pepper. Pour the mixture over the spinach and sprinkle with Parmesan cheese .
4. Bake for 30 minutes, or until set.