SERVES:4
PREPARATION TIME: 20 MINUTES
COOKING TIME: 10 MINUTES
Calories/serving: 265
WWpoints per serving: 5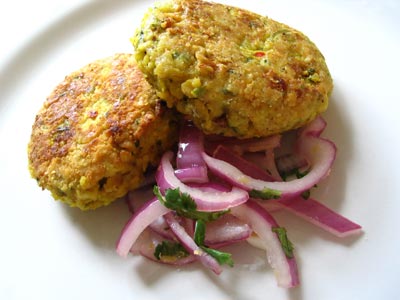 Fat: 73g
Make these burgers in advance and refrigerate for 2 hours to allow them to hold together during cooking.
2 X 400g cans chickpeas
8 spring onions, chopped
1 garlic clove, crushed
1 tablespoons finely chopped fresh ginger
2 tablespoons ground coriander
2 tablespoons garam masala
1 red chilli, finely chopped
1 egg, beaten
1 -2 tablespoons vegetable stock powder
5-8 large basil leaves
freshly ground black pepper
1. Place all the ingredients in a food processor and blend, using a regular pulse motion, until coarsely chopped.
2. Scrape the mixture into a bowl and add plenty of freshly ground black pepper
3. Divide the mixture into four large balls. Using wet hands, mould into burger shapes by pressing the mixture well between both hands. Cover with food wrap and refrigerate until ready to use.
4. Cook the burgers under a hot grill for 5 minutes on each side until hot through to the centre.