Spicy meatballs with spaghetti
SERVES: 4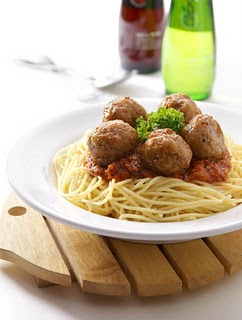 Calories/serving: 469
WW points per serving: 9
PREPARATION TIME: 10 MINUTES
COOKING TIME: 30 MINUTES
450g (1lb) lean minced pork
225g (8oz) low-fat sausage meat
2 garlic cloves, crushed
2 tablespoons vegetable stock powder
1 teaspoon paprika
1 small red chilli, finely chopped
1 teaspoon Italian herb seasoning
1 tablespoon finely chopped fresh parsley
225g (8oz) [uncooked weight] spaghetti
freshly grated Parmesan cheese to garnish

for the sauce

1 X 690g bottle tomato passata
6 basil leaves
1. Place both meats in a large mixing bowl with the garlic, stock powder, paprika, chilli, Italian herb seasoning and parsley and mix well. Form the mixture into 24 balls.
2. Preheat a non-stick frying pan. Add the meatballs and cook over a moderate heat for 10 minutes to brown the outsides. Drain away any fat, then add the passata and allow to
simmer for 10 minutes. Meanwhile cook the spaghetti in a large pan of boiling water.
Drain well and pour into a large serving dish.
3. Finely shred the basil, add to the sauce and spoon over the spaghetti.
4. Garnish with a little Parmesan before serving.