Serves: 8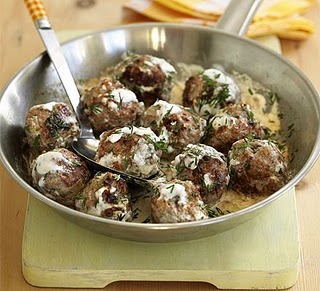 Fibre 0g, protein 10g, fat 28g,
Calories/serving: 307
WWpoints per serving: 6
6oml/2floz double cream
6oml/2floz water
11og/4oz minced beef
11og/4oz minced pork
11og/402 minced veal
1 large onion, peeled and finely chopped
2 teaspoons salt
4og/1/2oz butter
1recipe Cream Sauce
1/2 teaspoon grated nutmeg, to garnish
1 teaspoon caraway seeds, to garnish
1. Mix the cream and water together in a small bowl. Combine the beef, pork and veal in another bowl.
2. Mix the cream mixture, meats and onion together. Add the salt. Shape into small balls. Melt the butter in a medium frying pan over a medium heat, add the meatballs and brown. Then remove the balls to a dish and keep warm.
3. Make the Cream Sauce and pour over the meatballs. Garnish the meatballs with nutmeg and caraway seeds, if desired, and serve hot.