Serves:4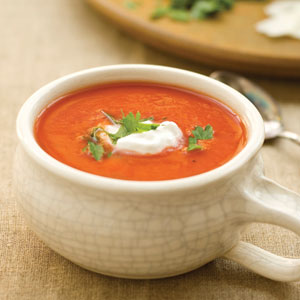 Preparation time: 15 minutes
Cooking time: 15 minutes
Calories/serving 80, 4 g protein, 3 g fat, 10 g carbohydrete, 4 g dietary fibre, 75 mg sodium, 345 kJ
A good source of vitamins A, B1, B3, C, E, potasium and iron.
* 2 teaspoons olive oil
* 1 onion, diced
* 1 garlic clove, crushed
* 1 teaspoon sugar
* 1kg ripe tomatoes, rougly chopped
* 1 tablespoon tomato pasta (concentrated puree ), no added salt
* 750ml vegetavle or chicken stok
* 1 bunch of fresh herbs (tie together stalks of parsley, thyme, mint and rosemary)
1. Heat the oil in a large saucepan, add the onion and garlic, then cover and cook over low heat for 3-4 minutes, stirring ocasionally.
2. Ad the sugar, tomatoes and tomato paste and cook for furder 2-3 minutes. Add the stock and herbs, bring to the boil, then cover and simmer for 5 minutes (do not over cook). Remove and dscard the herbs.
3. Leave the soup to cool a little, then puree. Push the puree through a sieve to remove any pices of tomato skin. Season with freshly ground pepper.
Tips:
You can dress the soup with 1 teaspoon low-fat natural yoghurt.