SERVES: 8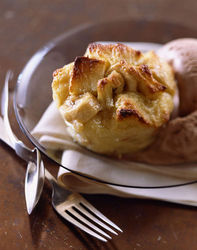 CALORIES/SERVING: 117
WW points per serving: 2
PREPARATION TIME: 10 MINUTES
COOKING TIME: 30 MINUTES
115g (4oz) wholegrain bread
2 bananas
1/2 tsp ground mixed spice
2 eggs
450ml (3/4 pint) skimmed milk
1 tsp vanilla essence
2 tbsps demerara sugar
1. Preheat the oven to 180C, 350F, Gas Mark 4.
2. Slice the bread into thin slices and arrange in the base of a shallow ovenproof dish. Peel and slice the bananas and slot the slices in between the bread slices. Sprinkle the mixed spice on top. 3. In a bowl whisk together the eggs and milk. Add the vanilla essence and pour the mixture over the bread. Leave to stand for 20 minutes to allow the bread to soak up the liquid.
Sprinkle the pudding with demerara sugar and bake in the oven for 25-30 minutes until golden. Serve hot.