Serves: 6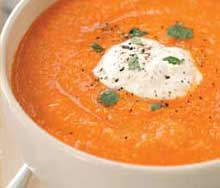 Fibre 2.8g, protein 2.6g, fat: 1o.6g
Calories/serving: 130
WW points per serving: 2
2 tablespoons butter
1 small onion, peeled and chopped
1 small clove garlic, peeled and crushed
2 teaspoons curry powder
1/2 teaspoon salt
1/4teaspoon freshly ground black pepper
75oml/1 1/4 pints Chicken Stock
1 x 425 -g/15oz can pumpkin puree
177ml/6floz coconut milk
1. Melt the butter in a large saucepan over a medium heat. Add the onion and cook for 5 minutes, until softened. Add the garlic, curry powder, salt and pepper and cook for i minute more.
2. Add the Chicken Stock, water and pumpkin puree. Mix well, then reduce the heat to low. Cook, stirring occasionally, for 20 minutes. Stir in the coconut milk.
3. Puree the soup in a blender in batches until smooth. Gently heat through before serving.