12 egg halves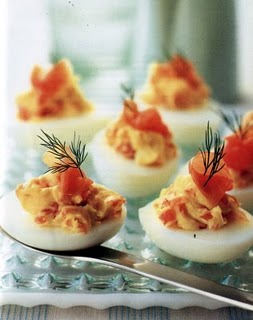 Fibre 0g, protein 5g, fat 5.7g
Calories/serving: 74
WW points per serving: 1
6 eggs
3 tablespoons mayonnaise
12og/4 1/2oz boneless cooked flaked salmon, canned or smoked (plus extra for garnish if desired)
1/2 teaspoon fresh lemon juice
1 teaspoon Dijon mustard
1 teaspoon Worcestershire sauce
1/2 teaspoon salt
dash freshly ground black
pepper sprigs dill, to garnish (optional)
1. Place the eggs in a saucepan, cover with cold water and bring to the boil. Cover the pan, remove from the heat and leave to stand for 18 minutes, then run the eggs under cold water and remove the shells.
2. Slice the eggs in half lengthways and remove the yolks.
Mash the yolks and mayonnaise together until smooth, then add all the remaining ingredients, except for the dill, and mix well.
3. Spoon the mixture into the egg whites and garnish with additional pieces of salmon and sprigs of dill, if desired. Refrigerate for at least 30 minutes before serving.