Prawn and Cheese Omelette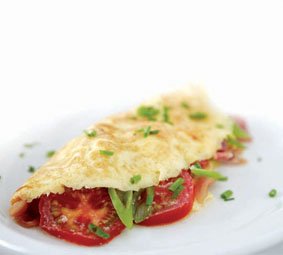 Serves: 2
Fibre o.3g, protein 14g, fat 54.8g
Calories/serving: 550
WW points per serving: 10
8 raw prawns, shelled
4 tablespoons garlic oil
4 eggs
6og/ 2 1/2oz herbed goat's cheese, crumbled
30g/1oz unsalted butter
4 sun-dried tomato halves softened in olive oil, finely chopped
1. Butterfly the prawns by cutting three-quarters of the way through each prawn along the back vein. Remove the vein. Open the prawn to resemble a butterfly.
2. Heat the garlic oil in a non-stick frying pan or omelette pan and sear the prawns in the hot oil, which should take about 2 minutes on each side. Remove the prawns from the pan and drain on kitchen paper.
3. Beat the eggs together with the goat's cheese.
Wipe the oil from the pan and add the butter to the pan, then add the beaten egg mixture and cook following the Basic Omelette instructions .
When the eggs are set, add the prawns and sun-dried tomatoes and fold over before serving.