SERVES: 4
Calories/serving: 317
WW points per serving: 6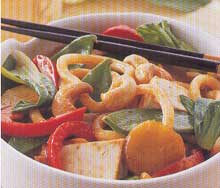 PREPARATION TIME: 20 MINUTES
COOKING TIME: 10 MINUTES
225g (8oz) tofu
2 long shallots, peeled and sliced
2 orange peppers, seeded and sliced
1 X 2.5cm (1 in) piece fresh ginger, finely chopped
225g (8oz) pack baby corn, carrots and mangetout
225g (8oz) beansprouts
225g (8oz) straight-to-wok noodles
1 tbsp light soy sauce
olive oil spray
salt and freshly ground black peppet
chopped fresh chives to garnish
1. Drain the tofu well and pat dry with kitchen paper. Cut into pieces and season with salt and black pepper. Heat a non-stick wok or pan until hot. Lightly spray with olive oil spray and add the tofu. Cook quickly over a high heat, tossing the tofu pieces so that they brown evenly.
2. Remove from the pan and place on a plate. Return the pan to the heat, add the shallots and peppers, and cook over a high heat. Add the ginger and corn and carrots, tossing them well./Tdd the mangetout and beansprouts and mix well for 2 minutes. Fold in the noodles and soy sauce until completely heated through. Return the tofu to the pan and stir well.
3. Pile into a serving dish and sprinkle with chopped chives.