SERVES: 1
CALORIES/ SERVING: 443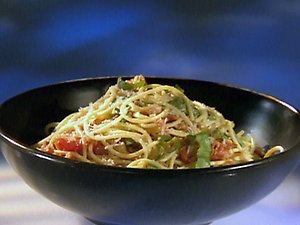 WW POINTS PER SERVING: 8
PREPARATION TIME: 5 MINUTES
COOKING TIME :20 MINUTES
75g (3oz) [uncooked weight] pasta shapes
1/2 vegetable stock cube
3 turkey rashers, chopped
1/2 onion, chopped
1/2 garlic clove, crushed
1/2 red pepper, chopped
1/2 tsp chilli powder or chilli paste
freshly ground black pepper
4 fresh basil leaves to garnish
1. Cook the pasta shapes in boiling water with the vegetable stock cube.
2. Preheat a non-stick frying pan. Add the turkey rashers, onion and garlic, and dry-fry until browned. Add the red pepper and cook for a further 2 minutes. Add the chopped tomatoes, chilli and black pepper and simmer for 10 minutes.
3. When the pasta is cooked, drain and rinse and add to the sauce. Mix well, and garnish with the basil leaves before serving.