Serves: 10
Calories/serving: 313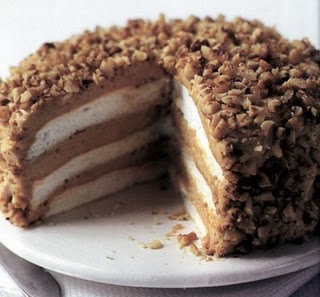 WW points per serving: 6
Fibre: o.5g Fat: 30g Protein: 5.2g
5 egg whites, at room temperature
4 tablespoons granular sugar substitute
50oml/16floz double cream
1 1/2 teaspoons instant decaffeinated coffee granules
1 1/2 teaspoons gelatine
1 tablespoon cold water
4 egg yolks, at room temperature
50g/2oz butter, at room temperature
1 teaspoon coffee flavouring
1 teaspoon chocolate flavouring
8og/3oz chopped walnuts
1. Preheat the oven to 14o°C/275°F/gas 1.
2. Butter three 23-cm (g-inch) round cake tins.
3. Whisk the egg whites until they form soft peaks. Add 1 tablespoon of sugar substitute and beat until stiff. Divide the whites between the three tins. Bake for 45 minutes, then leave in the oven to cool.
4. Combine half the cream and the instant decaffeinated coffee granules in the top of a double boiler. Stir with a wire whisk until the granules dissolve.
5. Dissolve the gelatine in the cold water. Add the gelatine to the coffee mixture and heat just to boiling point, stirring constantly with a whisk. Remove from the heat and whisk in the egg yolks, 1 yolk at a time. Add the butter and beat well until melted. Add the flavourings and remaining sugar substitute, then put in a freezer to cool.
6. Whip the remaining cream until stiff.
7. When the coffee mixture is cool, fold it into the whipped cream and refrigerate until the meringue layers have cooked and cooled down.
8. Pile the cream between the layers of meringue as you would ice a layer cake. Top with the coffee cream, making sure you cover the sides. Sprinkle the nuts on the top and sides and refrigerate the cake until you are ready to serve.