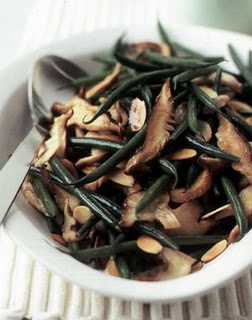 Serves : 4
Calories/serving: 230
WW points per serving: 4
Fiber 3.8g, fat 18g, protein 3.4g
450g/1 lb fresh or frozen stringless green been
60g/2 1/2 oz butter
225g/8oz shiitake mushroom, sliced
1/2teaspoon salt
30g/1oz sliced almonds
1. Top and tail the beans, if needed. Simmer in a small amound of water water for 6 to 7 minutes.
2. Melt the butter in a frying pan and saute the mushrooms until brown. Add the salt and almonds.
3. Add the beans to the frying pan and toss well. Simmer 4 minutes and add more salt if needed. Serve hot.