SERVES: 4
CALORIES/ SERVING: 328KCAL
WW POINTS PER SERVING: 6
PREPARATION TIME: 15 MINUTES
COOKING TIME: 40 MINUTES
Allow the meat to stand for 10 minutes after cooking. This aLlows the joint to relax and makes it easier to carve.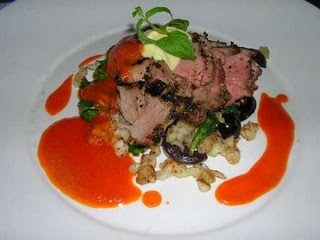 450g (1 lb) leg of lamb, fat removed
2 medium red onions, sliced
2 garlic cloves, crushed
150ml (1/4pint) mushrooms
1 tbsp plain flour
150ml (1/4 pint) red wine
1 X 400g can chopped tomatoes
1 tbsp chopped fresh tarragon
115g (4oz) button mushrooms
salt and freshly ground black pepper
1 Preheat the oven to 180C, 350F, Gas Mark 4.
2 Preheat a non-stick frying pan until very hot. Add the lamb and quickly brown on all sides, then transfer the meat to an earthenware dish.
3 Add the onions and garlic to the frying pan and cook until lightly coloured. Add 2-3 tbsps of stock and sprinkle the flour over. Cook briefly then gradually mix in the remaining stock, wine and chopped tomatoes. Bring to the boil and stir in the tarragon and mushrooms. Season with salt and black pepper. Pour the sauce over the lamb and cover with a lid.
4 Place in the oven and bake for 40 minutes until tender.
5 Before serving, scoop any fat from the top of the dish with a small ladle, then remove the meat from the sauce and place on a serving plate. Adjust the consistency of the sauce by
reducing in a saucepan over a high heat. Serve the lamb with the sauce.