Orange and fennel Greek pasta
SERVES: 4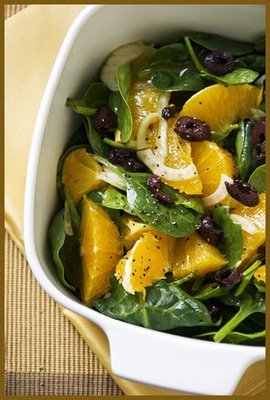 CALORIES/SERVING: 82
WW POINTS PER SERVING: 1
PARATION TIME: 10 MINUTES
COOKING TIME: 20 MINUTES
2 small heads fennel, finely sliced
2 large oranges, peeled and segmented
2 tbsps fruit vinegar
115g (4oz) Quark low-fat soft cheese
1 garlic clove, crushed
1 tbsp chopped fresh basil
1 romaine or crisp lettuce
1/2 cucumber, peeled and diced
1 small red onion, finely sliced
1 beef tomatoes, cut into chunks
a few black grapes
salt and freshly ground black pepper
chopped fresh flat-leaf parsley to garnish
1. Place the fennel in a bowl with the oranges and the fruit vinegar.
2. Mix together the Quark, garlic and basil, and season with salt and pepper. Using a teaspoon, take small amounts of the cheese mixture and roll into balls.
3 Arrange the salad leaves on a serving plate. Add the cucumber, onion, tomato and grapes. Arrange the cheese balls on the leaves and spoon the marinated fennel and oranges on top.
4. Sprinkle with parsley and serve.