SERVES 4
CALORIES/SERVING: 219
WW POINTS PER SERVING: 4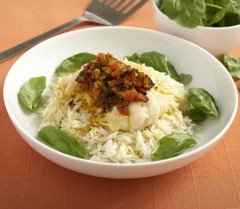 PREPARATION TIME: 1 5 MINUTES
COOKING TIME: 15 MINUTES
1 kg (2lb) thick cod fillet, skinned, boned and cut into 4 steaks
1 large red onion, finely chopped
1 garlic clove, crushed
4 ripe tomatoes, diced
1 tsp paprika
1 tsp ground turmeric
1 tsp saffron
1 tbsp chopped fresh parsley
juice of/6 lemon
salt and freshly ground black pepper
1. Preheat the oven to 200C, 400F, Gas 6.
2. Season the fish well on both sides and place, skin-side down, in an ovenproof dish. Preheat a non-stick pan, add the onion and dry-fry until soft. Add the garlic, tomatoes and spices and cook briskly for 4-5 minutes. Add the parsley and lemon. Season well with salt and black pepper.
3. Spoon equal amounts on to each cod steak and place, uncovered, in the hot oven for 12-15 minutes or until just cooked. When just cooked, the cod should flake easily when teased with a fork.