Marinated GriddleTuna Reicpe – 5 points
Ad
---
---
Serves 4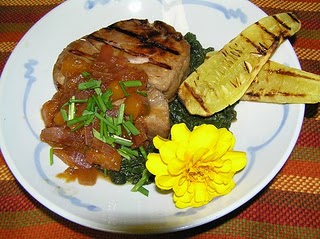 Preparation time: 45 minutes
Cooking time: 10 minutes
Calories/serving: 25
WWpoints per serving 5
4 thick tuna steaks
olive oil spray (e.g. Fry Light)
salt and freshly ground black pepper
for the marinade
4 tbsps light soy sauce
zest and juice of 2 limes
1 small red chilli, seeded and finely chopped
1 X 2.5cm (1 in) piece fresh ginger, peeled and finely chopped
1. Place the tuna steaks in a shallow dish and season with black pepper.
2. Combine all the marinade ingredients in a small bowl and pour over the tuna. Leave to marinate for 30 minutes.
3. Preheat a non-stick griddle pan and lightly spray with a little olive oil spray.
4. When the pan is very hot carefully add the tuna steaks and cook quickly for 2-3 minutes on each side. Don't overcook them or the texture will become tough and dry. Serve hot. You can serve the tuna with cooked vegetables or salad.
Ad
---
---