Serves: 8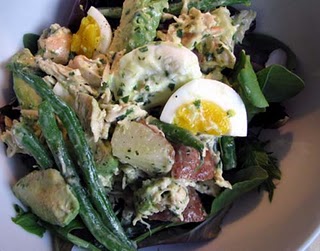 Fibre 0.9g, proetin 3.3g, fat 19g
Calories/serving: 202
WWpoints per serving: 4
1 medium swede, peeled
1 teaspoon granular sugar substitute (optional)
1 tablespoon fresh lemon juice
6og/2 1/2oz spring onions, finely chopped
1 medium dill pickle, chopped
120g/4 1/4oz celery with leaves finely chopped
1 1/2 teaspoons salt
dash paprika
18og/6oz mayonnaise
4 hard-boiled eggs, chopped
1. Cut the swede into four pieces. Drop into a saucepan of boiling water and boil until tender, which should take about 30 minutes. Drain well and cool.
2. After the swede has cooled, finely chop it and place in a salad bowl. Sprinkle with the sugar substitute, if using, and the lemon juice. Add the spring onions, pickle, celery, salt, paprika and mayonnaise. Toss well, then fold in the eggs.
3. Chill before serving.