Coconut Macadamia Ice Cream
Serves: 8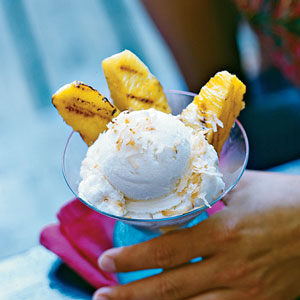 Fibre 9.8g, protein 3.6g, fat 33.5g
Calories/serving: 352
WWpoints per serving: 7
1 recipe

Vanilla Ice Cream Custard

30g/1oz grated fresh coconut, or unsweetened desiccated coconut
1/2 teaspoon rum essence or flavouring
80g/30z whole unsatted
acadamia nuts
1/2 teaspoon vanilla essence
4 teaspoons granular sugar substitute
1. Prepare the Vanilla Ice Cream Custard and allow to cool.
2. Place the coconut in a small bowl and sprinkle with the rum essence. Stir to combine the flavours.
3. Whisk the coconut, macadamia nuts, vanilla essence and sugar substitute into the cooling custard and cool to room temperature. Place in an ice cream maker and churn according to the manufacturer's instructions.