Frozen Blood Orange Mousse
Serves: 4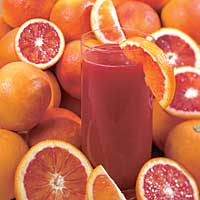 Fibre 0g, protein 2g, fat 22g
Calories/serving: 244
WWpoints per serving: 4
1 1/2 teaspoons granular gelatine
125ml/ 4floz unsweetened bood orange or ruby red grapefruit juice
25oml/8floz double cream
18og/6oz granular sugar substitute
2 tablespoons rum
1. Stir the gelatine into the juice and leave for 5 minutes to soften.
2. Heat a third of the cream and the sugar substitute in a small saucepan over a medium heat until it has dissolved and is just hot. Add the gelatine mixture and stir until dissolved. Place the pan over an ice bath and gently whisk until it starts to thicken, which should take 2 to 4 minutes, then remove from the bath.
3. Using an electric whisk, whip the remaining cream to just stiff peaks, adding the rum gradually towards the end. Turn down the speed to medium and add the gelatine mixture in three additions, blending until smooth.
4. Spoon into four custard or souffle cups. Cover with clingfilm and freeze for a minimum of i hour for a soft frozen texture or up to 3 days ahead. Leave the frozen mousse to stand at room temperature for 15 minutes before serving.