Gratin of pink grapefruit and orange
Sesves: 4
Calories/serving: 243
WW points per serving: 4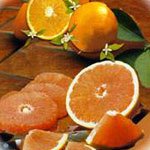 PREPARATION TIME: 20 MINUTES
COOKING TIME: 5 MINUTES
You can prepare the fruit in advance and refrigerate. Place under the grill for just 5 minutes and it's ready to serve.
2 large pink grapefruits
4 oranges
4 tablespoons Cointreau liqueur grated fresh nutmeg
4 tsps demerara sugar
basil leaves to decorate
1. Slice both grapefruits in half through the widest part of the fruit.
2. Using a grapefruit knife, carefully remove the grapefruit segments and place in a bowl.
3. Cut away the pith and membrane from the shells and discard. Place the grapefruit shells on a foil-lined baking tray.
4. Using a sharp serrated knife, cut away the skin and pith from the oranges. Segment the fruits into the bowl containing the grapefruit segments by cutting in between the soft membrane and teasing out with the knife.
5. Add the Cointreau and a little nutmeg. Mix well and spoon into the grapefruit shells.
6. Sprinkle with the sugar and place under a hot grill for 4-5 minutes until golden brown. Decorate with basil leaves before serving.