Serves 4
Preparation time: 25 minutes
Cooking time: 30 minutes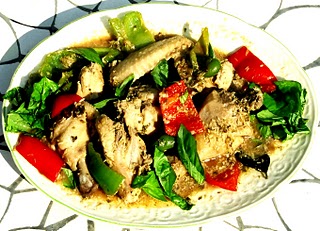 Calories/serving: 244
WWpoints per serving : 5
* 2 red onions
* 3 garlic cloves, chopped
* 4 chicken brest, skinned and boned
* 1 tablespon ground coriander
* 1/2 teaspoon ground turmeric
* 1/4 teaspoon fenugreek seeds or ground fenugreek
* 1 small fresh chilli, chopped
* seeds from 4 cardamom pods
* 4 kaffir lime leaves
* 300ml ( 1/2 pint) chicken stock
* 300ml (1/2 pint) reduced-fat coconut milk
* 2 tablespoons chopped fresh basil
* 115g ( 4oz) sheredded fresh spinach
* salt and freshly ground black pepper
1. Preahest a non-stick wok or frying pan. Dry-fry the onions and garlic until stoft and lightly coloured.
2. Cut the chicken into a dice, add to the pan and seal the outside tf the meat. Season with salt and black pepper . Add the spices and kaffir lime leaves and continue cooking for 2 minutes befor adding the stock, coconut milk and basil.
3. Reduce the heat and allow to simmer gently as the sauce thickens. Just before serving stir in the spinach.