Serves 6
Fibre 2.9g, protein 24g, fat 23g
Calories/ serving 333

WW points per serving 7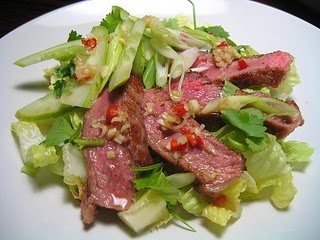 1 small reound iceberg lettuce
1 small head Chinese leaves
1 large cucumber, Thinly sliced
1 red onion, peeled and sliced
1/2 small daikon radish
2 small tomatos, each cut into 8 pices
6 mint leaves
6 coriander leaves
60 ml walnuts oil
675g sirloin steak
1/2 teaspoon salt

Dressing:

2 cloves garlic, peeled and chopped
60 ml fresh lime juice
1-2 teaspoons granular suger substitute
1 tablespoon Tamari soy sauce
1teaspoon crushed red pepper flekes
1. Wash and dry the lettuce and Chinese leaves, tear into bite-sized pices and tip into a serving bowl. Mix the cucumber, onion, radish, tomatoes, and the mint and coriander leaves together and pour over the lettuce. Toss well.
3. Heat the walnut oil in a non-stick frying pan over a medium heat. Add the steak, sprinkle with salt and fry quickly until the meat is just rare. Remove from the pan and slice thinly.
4. Fan out the cooked meat on top of the salad. Mix the dressing ingredients together, pour over the salad.