Serves: 12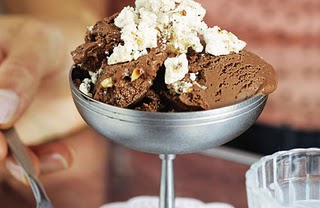 Fibre 2.8g, protein 5.5g, fat 31g
Calories/serving: 382
WW points per serving 7
6 egg yolks
6ooml/1 pint double cream
30og/11oz granular sugar substitute
25oml8floz water
30g/1oz unsweetened cocoa
8og/302 unsweetened chocotate, chopped
1 tablespoon instant decaffeinated coffee granules
1 tablespoon vanilla essence
11og/4o2 hazetnuts, flopped and toasted
1. In a bowl, whisk the egg yolks, 125ml/4floz of the cream and the sugar substitute.
2. In a saucepan mix the rest of the cream, the water, cocoa, chocolate and coffee. Cook over a medium-low heat, stirring occasionally, until the chocolate has melted and the mixture has begun to simmer.
3. Slowly pour 25oml/8floz of the chocolate mixture over the egg yolks, whisking constantly, then pour the mixture back into the pan. Cook, stirring constantly, until the mixture is thick enough to coat the back of a spoon. Remove from the heat, stir in the vanilla essence, then chill for 4 hours.
4. Pour the mixture and hazelnuts into an ice cream maker and churn according to the manufacturer's instructions.