Raspberry Rapture Ice Cream
Serves 8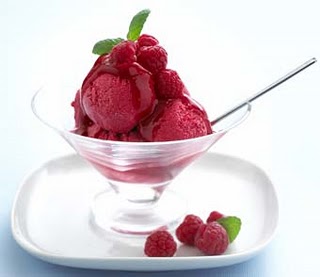 Fibre 1g, protein 3g, fat 26g
Calories/serving: 297
WWpoints per serving: 6
1 recipe

Vanilla Ice Cream Custard

1/2-1 teaspoon raspberry flavouring, to taste
12og/4 12oz raspberries
2 tablespoons granular sugar substitute
1. Prepare the Vanilla Ice Cream Custard and allow to cool.
2. Mix the raspberry flavouring and framboise together.
3. Place the raspberries in a small bowl and sprinkle with sugar substitute. Add the framboise mixture and chill to allow the flavours to combine, which should take about 5 minutes.
4. Whisk the raspberry mixture into the cooling custard and cool to room temperature. Place in an ice cream maker and churn according to the manufacturer's instructions.