SERVES 4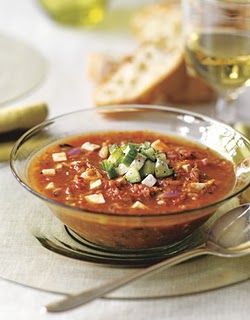 Calories/serving: 40
WW points per serving: 1
PREPARATION TIME 20 MINUTES
COOKING TIME 10 MINUTES
2 red peppers, seeded
1 cucumber, peeled
7 celery sticks
garlic clove, crushed
600ml (1 pint) tomato juice
2 tablespoons vegetable stock powder
1 tablespoons red wine vinegar
2-3 drops Tabasco sauce
salt and freshly ground black pepper
good bunch of fresh mint leaves to garnish
1. Place the red peppers on a non-stick baking tray, skin-side up, and cook under a hot grill until the skin blisters and blackens. Place in a plastic bag, seal, and allow to cool. Peel away the skin and discard.
Place the pepper flesh in a food proclssor. Add the cucumber, 3 celery sticks (reserve 4 for the garnish), garlic, tomato juice and stock powder. Blend until smooth, then pass through a metal sieve. Add the vinegar and Tabasco. Adjust the consistency with a little cold water and season
with salt and black pepper. Refrigerate until ready to serve.
3. Serve in glass dishes and garnish each with mint leaves and a stick of celery.