Serves: 4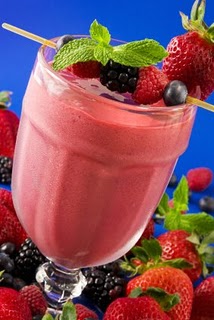 Calories/serving: 66
WWpoint per serving: 1
PREPARATION TIME 10 MINUTES
150g (5oz) fresh blueberries
150g (5oz) fresh raspberries
150g (5oz) fresh strawberries, hulled
150ml (1/4 pint) ice-cold skimmed milk
150ml (1/4 pint) low-fat natural yogurt
1 -2 tablespoons runny honey to taste
1. Rinse the blueberries and raspberries and place in a food processor or liquidiser.
2. Slice the strawberries and place in the food processor with the other fruits.
3. Pour in the milk and yogurt and process for a few seconds until fully combined. Stir in the honey. Pour into glasses and serve.