SERVES: 4
CALORIES/SERVING: 166
WW points per serving: 3
PREPARATION TIME: 10 MINUTES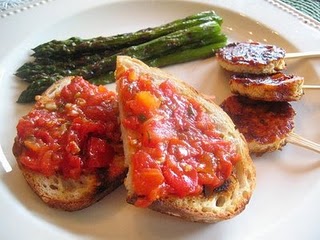 COOKING TIME: 10 MINUTES
Make up these garlic toasts just before required and reheat in a low oven, as they will go soggy if left for more than 30 minutes.
1/3 French stick
2 garlic cloves
6 spring onions, finely chopped
1 small red and 1 small yellow pepper, seeded and finely diced
225g tomato passata
3-4 fresh basil leaves, finely shredded
4 cherry tomatoes, sliced
salt and freshly ground black pepper
salad leaves to garnish
1. Slice the bread diagonally into eight thick pieces and toast lightly under a hot grill on both sides. Slice 1 garlic clove in half. Rub both sides of the bread with the cut side and place
on a baking tray.
2. Preheat a non-stick frying pan. Add the onions and dry-fry for 2-3 minutes until soft. Crush the remaining garlic clove and add to the pan along with jhe peppers. Cook until soft. Add the passata and simmer over a low heat until most of the moisture has evaporated to leave a paste-like consistency. Allow to cool, then stir in the basil and season to taste.
3. Spread the mixture on to the toasted bread and top with the sliced cherry tomatoes. Place under the hot grill to brown.
4. Garnish with the salad leaves and serve warm.