SERVES: 4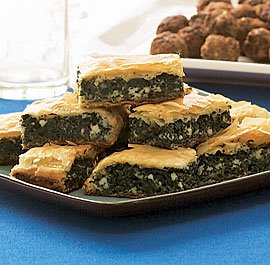 CALORIES/ SERVING: 257
WW points per serving: 5
PREPARATION TIME: 20-25 MINUTES
COOKING TIME: 45 MINUTES
1 medium onion, chopped
50g (2oz) leeks, trimmed and chopped
1 vegetable stock cube
250g(10oz) spinach
1 tsp dried oregano
1 egg, beaten
1 X 250g carton low-fat cottage cheese
200g filo pastry
sunflower oil spray
salt and freshly ground back pepper
1. Put the onion and leeks into a large pan. Stir the stock cube into 100ml (3 1/2fl oz) hot water, and add to the pan. Cook over a medium heat, uncovered, for about 10 minutes until
the vegetables are tender and the liquid has evaporated.
2. Meanwhile, trim the stalks from the spinach. Wash and shake off the excess water, then shred. Add to the pan and cook for 2 minutes until wilted. Tip into a colander and press out any
excess liquid.
3. Preheat the oven to 200C, 400F, Gas Mark 6.
4. Put the vegetables into a bowl. Add the oregano, beaten'egg and cottage cheese, season with salt and black pepper and mix well.
5. Spray a shallow rectangular tin (approx. 20 X 25cm/ 8 X10 in) with a little sunflower oil spray. Add a layer of filo pastry, allowing some pastry to hang over the edge. Spray with sunflower oil spray. Repeat three more layers of filo, spraying between each layer. Spoon the filling into the tin.
6. Top with three layers of filo pastry. Cut the pastry to fit within the tin but allow it to ruffle, and spray each layer. Fold in the overhanging pastry to make an edge and finally spray the folded edges.
7. Bake in the oven for about 30 minutes until golden. Cut into four portions and serve immediately.