Serves: 8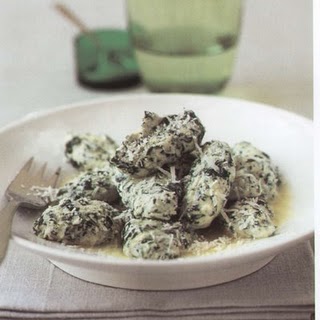 Calories/serving: 460
WW points per serving: 9
Fibre: og Protein: 143 Fat: 44g
450g/1lb ricotta cheese, pressed of liquid
225g/8oz full fat soft cream cheese or Boursin cheese
3 eggs, beaten
15g/1/2 soy flour dash of salt, cayenne pepper and nutmeg
225g/8oz unsalted butter, melted
50g/2oz Parmesan cheese, grated
1. Push the ricotta cheese and soft cheese through a fine sieve. (The easiest and fastest way is with your hands.)
2. Beat the eggs into the mixture with an electric or rotary beater. Blend in the soy flour and seasonings, then refrigerate for about i hour.
3. Bring a large pot of water to the boil. Lower the heat to just simmering and drop the cheese mixture into the water by teaspoonfuls. (They will drop and then rise to the top.)
4. Allow the gnocchi to poach (simmer on top of the water) for about 20 minutes. Remove carefully with a slotted spoon and allow to drain on kitchen paper.
5. Put half the butter in a large baking dish then place the drained gnocchi on top. Cover with the remaining melted butter and grated Parmesan cheese.
6. Gnocchi may be served immediately, kept warm in a low oven or refrigerated and reheated.